Solutions for Mature Adults
Getting Ready to Retire!
Jeremy, 59, and Denise, 57, have been married for thirty years. They have 2 grown children - one is working and the other is a senior at a state college. Since retirement is on the horizon, they are planning to sell their home next year and downsize to a condo on a golf course in South Carolina. Jeremy will have a pension of $3,000/month and Denise will continue to sell Mary Kay cosmetics.
Jeremy and Denise's Concerns:
They would like to provide monthly retirement income for the remaining spouse in the event of one's death.
They would like to leave each of their children $50,000 after they both die.
They would like to have their burial expenses covered.
Recommendations:
Each spouse should purchase a $100,000 10-year Vantis Velocity Term policy to protect against an early, unexpected death. The cost for both policies is only around $57/month!
Each spouse should purchase a $50,000 Vantis Velocity Whole Life policy - the proceeds of which will be split between their two children upon the death of the owners. The total cost of these whole life policies is about $275/month
Jeremy and Denise kill two birds with one stone by purchasing term life protection and whole life policies payable to their kids!
Passing money along... Wisely!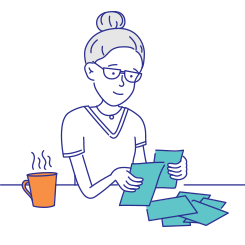 Sandy is a 69-year-old widow who has three grown children and 4 grandchildren. She currently rents a condo in a retirement community, serves meals during pinochle tournaments, receives a $2,500/month distribution from an IRA and is managing the nest egg that she and her deceased husband built — around $750,000. She has no existing life insurance policies.
Sandy's Concerns:
She wants to leave some money for her grandchildren's education.
She doesn't want to burden her family with burial and final expenses
Recommendations:
Sandy can spend $150,000 to buy a Vantis EstateWise Platinum Single Premium Life Insurance policy which results in a tax-free payment to her beneficiaries of about $277,000!
She can give half of the death benefit to her children and the other half to her grandchildren.
She also purchases a $20,000 Guaranteed Golden final expense policy for $130/month to cover final debts and burial expenses