What We Can All Learn from "50 Ways to Say Goodbye" by Train
Dying is usually a very serious and sad topic that no one wants to talk about, especially if a death occurs unexpectedly.  But the band Train, with their hit song "50 Ways to Say Goodbye" takes the normally serious topic of dying and lightens it up a bit by using some very unusual examples of dying as excuses to avoid having to explain a break-up to friends.  Inspired by the lyrics in this song, we thought it would be interesting to find out what the statistics are for "saying goodbye" according to this well-known single.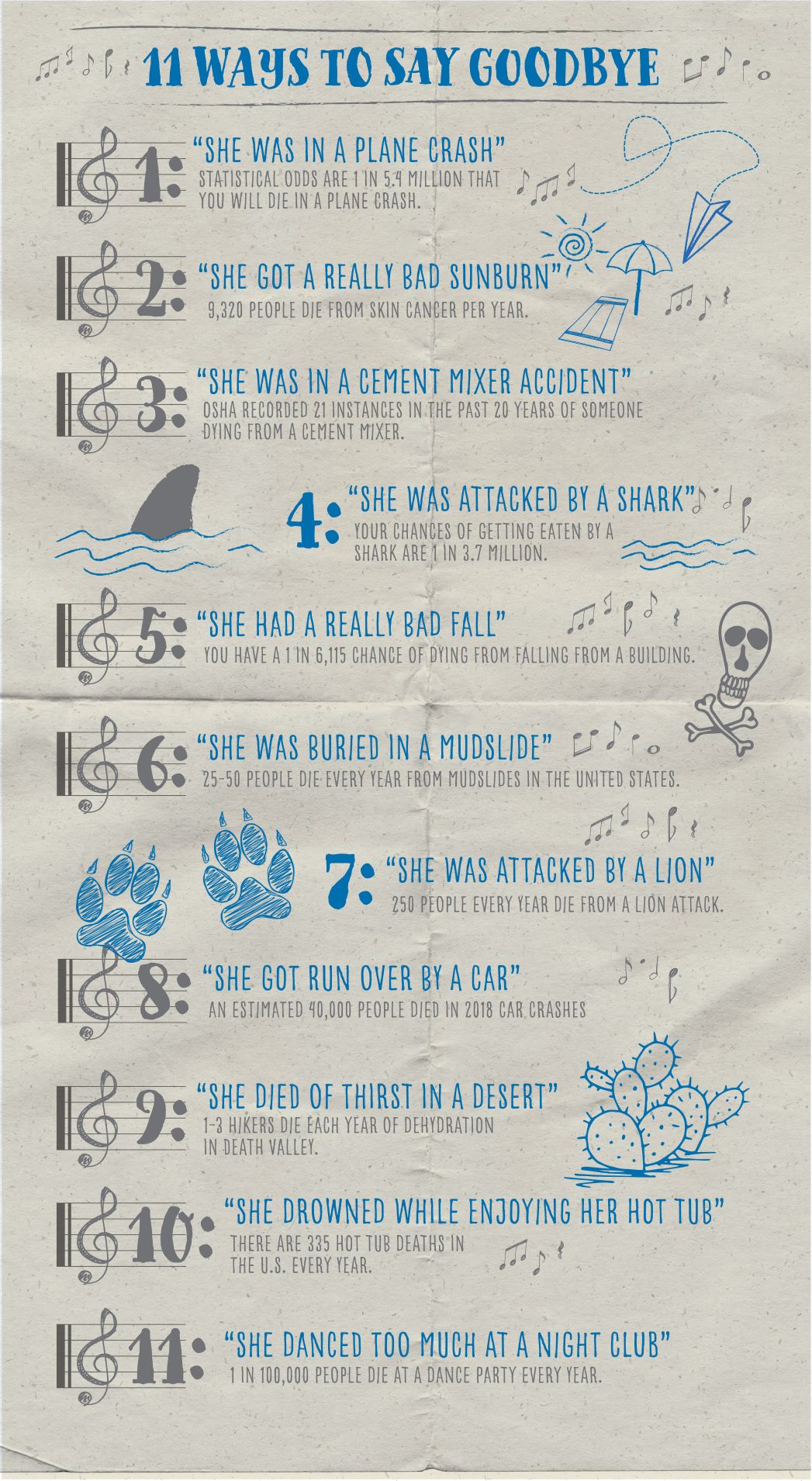 There are 11 examples in the song by Train to explain how the girlfriend "died" and here is what we learned:
1. She was in a plane crash.
Statistical odds are 1 in 5.4 million that you will die in a plane crash.
2. She got a really bad sunburn.
9,320 people die from skin cancer per year.
3. She was in a cement mixer accident.
OSHA recorded 21 instances in the past 20 years of someone dying from a cement mixer.
4. She was attacked by a shark.
Your chances of getting eaten by a shark are 1 in 3.7 million.
5. She had a really bad fall.
You have a 1 in 6,115 chance of dying from falling from a building.
6. She was buried in a mudslide.
25-50 people die every year from mudslides in the United States.
7. She was attacked by a lion.
250 people every year die from a lion attack.
8. She got run over by a car.
An estimated 40,000 people died in 2018 from car crashes.
9. She died of thirst in a desert.
1-3 hikers die each year of dehydration in Death Valley.
10. She drowned while enjoying her hot tub.
There are 335 hot tub deaths in the U.S. every year.
11. She danced too much at a night club.
1 in 100,000 people die at a dance party every year.
---
Since the song only mentions 11 ways, we decided to take it a step further and found another 11 really unusual accidents that Train could use for a follow-up single!
12. You have a bad dream and fall out of bed
Falling out of bed kills 450 Americans each year.
13. Got scared at a haunted house
There are 243,750 cases of sudden cardiac death, when the heart ceases to beat, in the U.S. a year.
14. Land under a TV while catching up on your Game of Thrones episodes
29 people are killed each year by falling TVs.
15. You stop by a vending machine for a snack and the vending machine attacks you!
Consumer Product Safety Commission reports 37 deaths have occurred from vending machines since 1978.
16. Visit a secluded tropical island and get hit with a falling coconut
150 people around the world are killed by falling coconuts each year.
17. You are left-handed and use a right-hand product
More than 2,500 left-handed people die each year by using right-handed products.
18. Go swimming in the ocean and meet some jelly fish
40 people die each year from jellyfish bites. That's 8 times as many as those that die from sharks.
19. Find Bambi's mom or dad in the woods
130 people die each year from deer attacks.
20. Try to be the next Crocodile Dundee
1,000 people around the world die from crocodile bites each year.
21. Get a Hippo for Christmas
There are 500 people each year in Africa who die by a hippo attack.
22. Have a run in with Cujo
Over 30,000 people across the world die by dogs with rabies each year.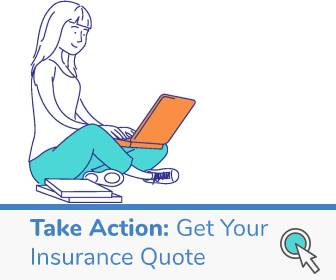 Although we had some fun digging into these stats, the truth is accidents do happen, and these examples are proof that the outcome of those accidents can be an unexpected death. That is why it is so important to make sure you are prepared for any situation that may occur.
Importance of Life Insurance
Having a life insurance policy in place will make sure that your loved-ones are protected against the financial impact caused by a sudden and unexpected death.  There are simple needs calculators you can use to determine how much life insurance you need no matter your age or income level.
We invite you to visit our website learn more about specific products, get advice, and most importantly, begin the process of protecting your family.
No one knows what tomorrow brings so prepare today.
Our content is created for educational purposes only. This material is not intended to provide, and should not be relied on for tax, legal, or investment advice. Vantis Life encourages individuals to seek advice from their own investment or tax advisor or legal counsel.