Valuing Our Everyday Heroes
Here at Vantis Life, we firmly believe that not all heroes wear capes. There are thousands of men and women across our country who dedicate their lives to helping others – from firefighters on the frontline to dedicated teachers helping educate our kids. 
But which professions do we see as our everyday heroes? And how do we value them in other areas? We surveyed over 2,000 Americans to find out who our heroes are, and how we view them when it comes to trustworthiness, importance, and how much they should be paid. The results highlighted some interesting points about how we value our everyday heroes, and how we think they should be recognized for their work.
The Most Heroic Jobs
No matter your walk of life, we all have opportunities to be heroes, whether it's something as pivotal as saving someone's life, or as simple as putting a life insurance policy in place to protect your family's future. But there are some professions that the general public view as more heroic than others. To uncover what these are, Vantis Life asked respondents to our survey to rank 22 common US professions from most to least heroic.
The top of the table is rightly dominated by our emergency services, but the top ten most heroic jobs do include other roles that highlight how we define heroism. The top ten most heroic jobs, based on average scores from our 2,000 respondents, are:
1.    Soldier
2.    Firefighter
3.    Police officer
4.    Doctor
5.    Nurse
6.    Teacher
7.    Scientist 
8.    Veterinarian
9.    Stay-at-home mom
10.  Farmer
The top five professions on this list earn their heroic ranking as they involve either saving someone's life or risking your own. These two qualities were ranked as most important in defining what a hero is by our survey respondents.
The professions in positions six to ten on this list illustrate what else is important to us. From education to helping animals and putting food on our table, being a hero can mean a lot of different things.
A closer look at which qualities we see as heroic helps to explain the jobs that appear on this list. Asked what they thought defined a heroic profession, respondents suggested the following:
•    Saving someone's life: 80%
•    Risking your own life: 77%
•    Standing up for other people: 75%
•    Being a role model: 68%
•    Being a good leader: 55%
•    Taking risks: 54%
•    Sacrificing spare time for no extra pay: 47%
Looking at these qualifiers for what makes a profession heroic may help us to understand the professions that did not rank so highly. Professional sports players, politicians, and actors were ranked as the least heroic professions in the USA.
Heroism and Importance
In addition to looking at how far the public trust our heroes, we also wanted to see how important they feel they are in our day-to-day lives. Asked to rate each profession on this point, our survey respondents provided the following top ten:
1.    Doctor
2.    Teacher
3.    Police officer
4.    Firefighter
5.    Nurse
6.    Stay-at-home mom
7.    Soldier
8.    Farmer
9.    Stay-at-home dad
10.  Scientist
Again, there are some interesting things uncovered when we compare this ranking with our heroism top ten.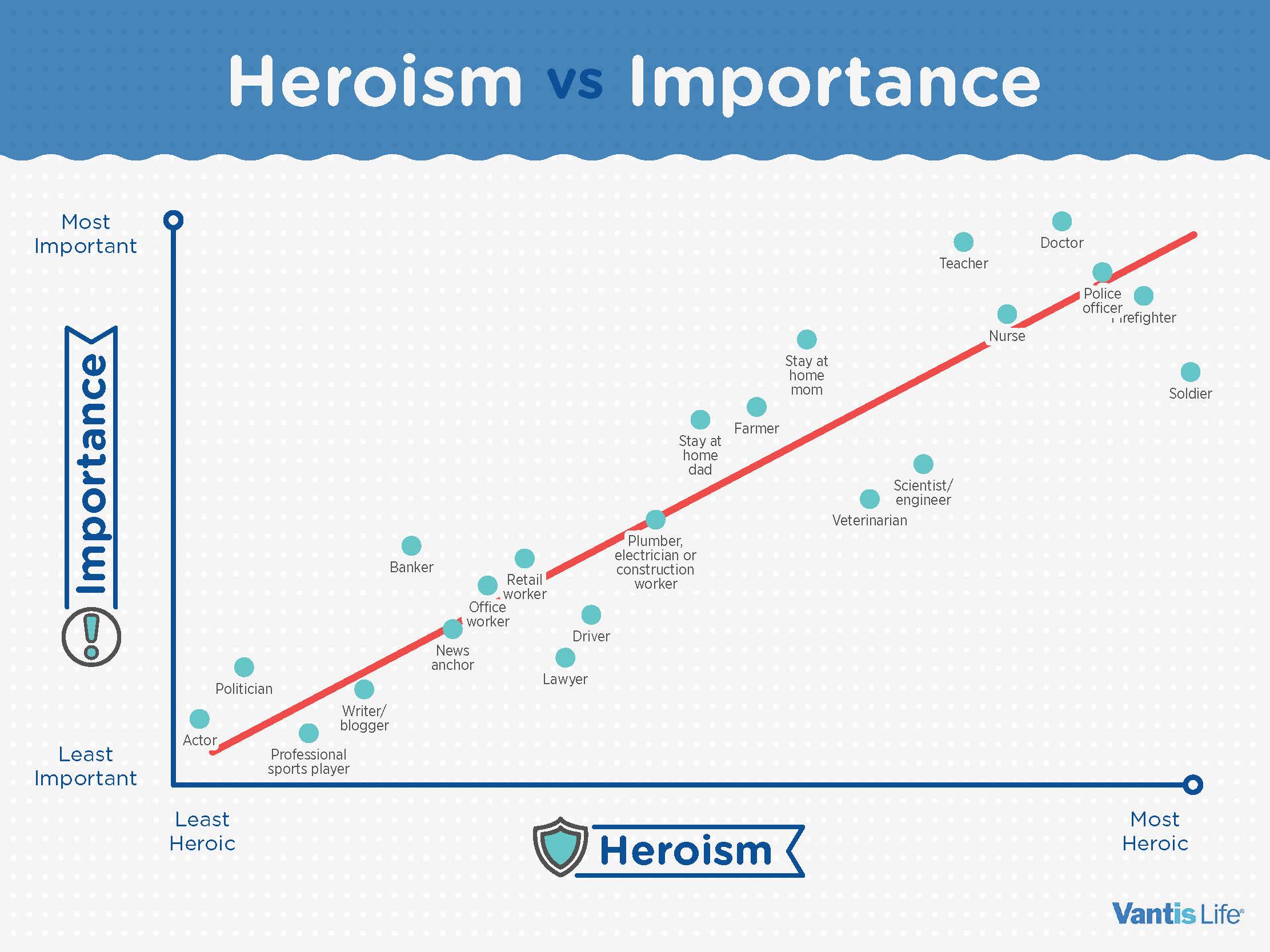 When it comes to importance, consumers seem to rate education, protection, provision, and care highly. The importance they place on education is reflected in teachers' appearance at number two on this list. 
Stay-at-home parents also rank higher than their heroic positions, due to their impact on the development of children in their care. Again, it is interesting to see the bottom of the table too. In this instance, it is professional sports players who come in last, with most people believing they have the smallest impact on their day-to-day lives. They are followed by actors, writers, and then politicians. Although politicians do rank low on this list, they are, at least, above the positions they earned on other factors.
Heroism and Pay
When we quizzed people on how much monetary reward people felt their heroes deserved, they were almost unanimous in agreeing that heroic jobs deserved bigger paychecks.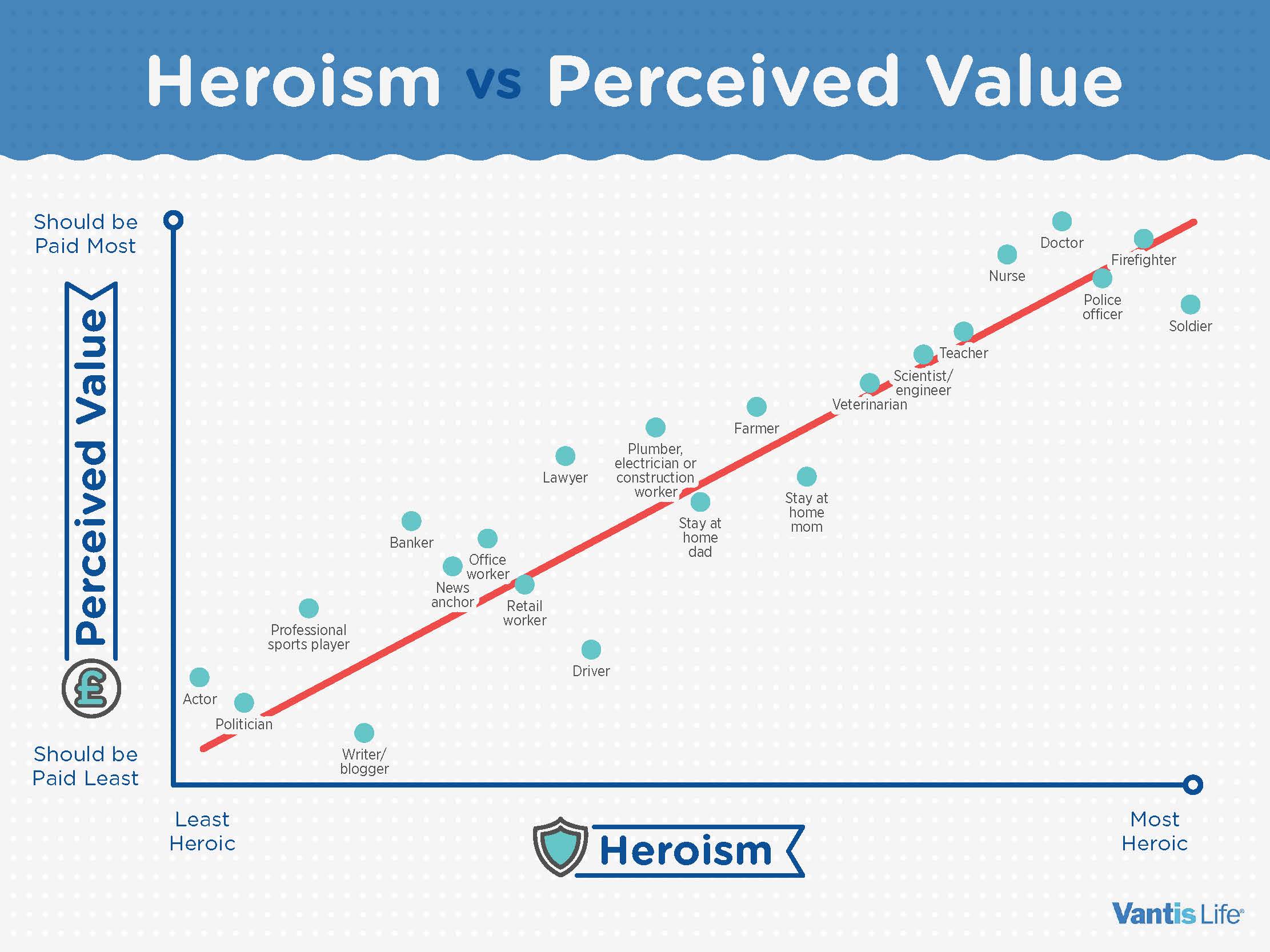 The top ten jobs people think should be paid the most match up closely to the top ten for heroism:
1.    Doctor
2.    Firefighter
3.    Nurse
4.    Police officer
5.    Soldier
6.    Teacher
7.    Scientist
8.    Veterinarian 
9.    Farmer
10.  Plumber
The only new profession to appear on this list, compared to the top ten for heroism, is plumber. Stay-at-home mom is the heroic profession that people haven't voted to include in the top ten highest paid. This makes sense since the role of stay-at-home parent is entirely unpaid. Even still, people want moms and dads to receive more pay than news anchors, professional sports players, politicians, and five other professions.
Unfortunately, these ideal pay rankings are not reflected in real-world salaries. When we compare the heroism rating with actual average pay for the profession across the US, the most heroic jobs often receive smaller paychecks than their less heroic counterparts.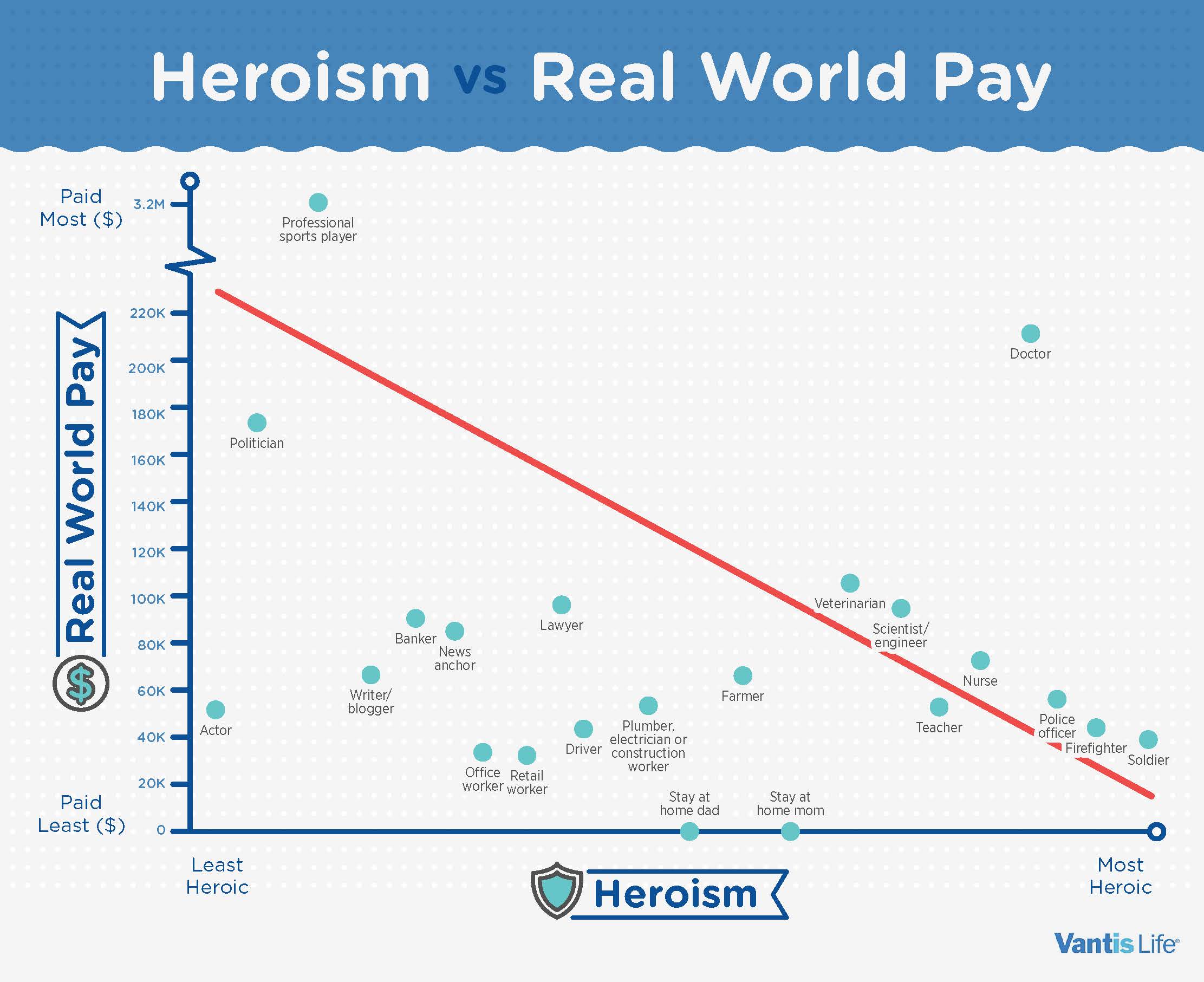 Just four of the ten most heroic professions (doctor, veterinarian, nurse, and scientist) appear in the top ten best-paid professions. Meanwhile, jobs such as politician, actor, sports player, and news anchor, which all have low heroism ratings, make the top ten on real-world pay.  
This data has revealed values that are important to the American public, and what makes us value certain professions above others. It indicates that these values are not always recognized by pay in the way we hope they would be. People seem to feel that higher salaries should be given to those who risk their lives and save the lives of others in the course of their work.  
This study highlighted that people who take on high-risk jobs that require sacrifice of safety and time are indeed seen as heroes.  The survey results offer interesting insight into the values we appreciate in various professions, and prompt discussion around whether the most heroic are appropriately compensated.  Vantis Life believes that everyone can be a real "life hero" to his or her family by protecting them with the right amount of life insurance.
Our content is created for educational purposes only. This material is not intended to provide, and should not be relied on for tax, legal, or investment advice. Vantis Life encourages individuals to seek advice from their own investment or tax advisor or legal counsel.