Individual vs. Group Life Insurance Policies – Why It Matters for Your Future
Most people's first interactions with life insurance come in the form of coverage provided through work, also known as group life policies. There are many perks to this workplace benefit including the fact that there's typically no underwriting involved whatsoever, and it comes at little to no cost. It's usually a no-brainer for people to choose this option, especially early on in their careers.
However, many individuals will outgrow their group life coverage, sometimes without even realizing it.
This common misconception of, "I have a plan through my job, I don't have to think twice," can lead to a dangerous path, putting your loved ones at risk for taking on expenses they may not be able to afford in the event of an untimely death. That's why it's important to reevaluate your existing scope of coverage.
Here are several key distinctions between group and individual life insurance policies:
Coverage Amounts
Many group life policies offered by employers are typically one to two times an individual's current salary. However, it is recommended to own a policy seven to 10 times your income to protect your family in the event of an untimely death.  
Unfortunately, this means that many company-sponsored plans are not enough, which calls for the need to look outside of your existing plan and consider individually-owned life insurance coverage.
Overall Cost
While some group life policies offer the ability to opt-into additional coverage over and above an amount equal to one to two times salary, this can be a very expensive option as these plans are typically a 'one size fits all' solution. Healthy individuals are charged the same as high-risk candidates, as there is no benefit of medical underwriting to gauge the risk – or lack thereof – in employees. This leaves healthy individuals paying a higher rate for the additional coverage than they could have obtained in the individual life insurance marketplace.
By acquiring an individual life policy outside of your company-sponsored plan, healthy individuals can access a much more affordable option that will guarantee bespoke coverage for their circumstance.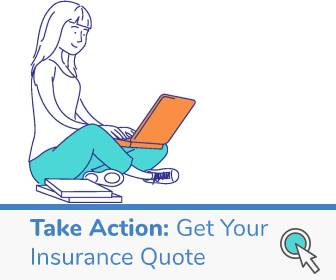 Portability
Company-sponsored plans are a great place to start. However, they aren't portable if you change jobs or are let go.
This is particularly relevant for today's workforce with 64% of workers favoring job-hopping, according to a recent study by Robert Half.1  But even those who have dedicated many years of their life to a company aren't necessarily guaranteed coverage either.
As part of your company benefit, you assume that if anything were to happen to you, your company's group life coverage would provide funds to cover family expenses upon your death. Now imagine that 10, 15 or 30 years later, your company goes back on that promise, and your dependents lose coverage.
Scary, right? Unfortunately, this has become reality for thousands of Sears retirees who lost their group life insurance coverage when the company revoked the benefit earlier this year. Not only has this completely upended their personal finances, but as retirees, many of those affected have likely become uninsurable – unable to obtain individual life insurance coverage.
It's Time to Reevaluate
Having an individual life insurance plan is a necessary precaution to take in order to guarantee security and provide your loved ones the safety net they need. Take the time to reevaluate your circumstances to protect yourself and your family.
References:
1Robert Half: http://rh-us.mediaroom.com/2018-04-05-Does-Job-Hopping-Help-Or-Hurt-Your-Career
Our content is created for educational purposes only. This material is not intended to provide, and should not be relied on for tax, legal, or investment advice. Vantis Life encourages individuals to seek advice from their own investment or tax advisor or legal counsel.