Peanut Blossom Cookie Recipe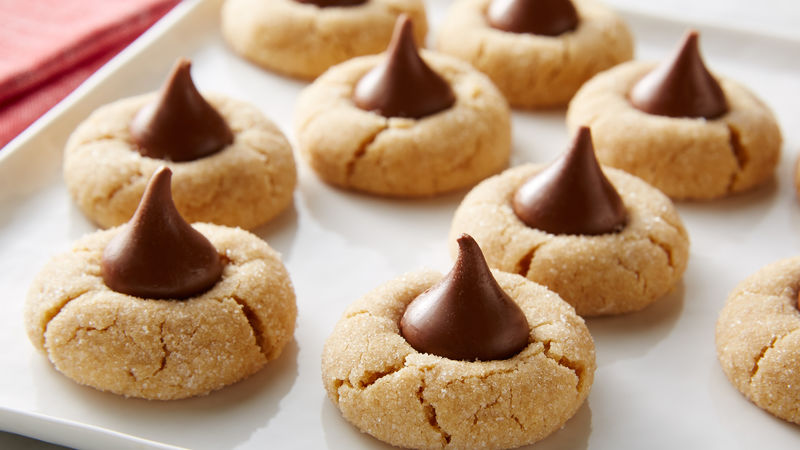 Recipe by: Christina D., Financial Analyst at Vantis Life
Ingredients
-    1 Bag of Hershey Kisses
-    ½ cup of shortening
-    ¾ cup of creamy or crunchy peanut butter
-    1/3 cup of granulated sugar
-    1/3 cup of packed light brown sugar
-    1 egg
-    2 tablespoons of milk
-    1 teaspoon vanilla extract
-    1 ½ cups all-purpose flour
-    1 teaspoon baking soda
-    ½ teaspoon salt
Instructions
1.    Heat oven to 375 degrees
2.    In a large bowl, beat the shortening and peanut butter until well blended. Add the granulated sugar and light brown sugar; beat until light and fluffy.  Then add the egg, milk and vanilla; beat well.
3.    Stir together the flour, baking soda and salt.  Gradually add this dry mixture to the peanut butter mixture.
4.    Once mixed well, shape dough into 1 inch balls.  Roll in granulated sugar and place on non-stick cookie sheet.
5.    Bake for 8-10 minutes.  In the meantime, unwrap Hershey kisses    
6.    Let the cookies sit for 1 minutes before placing the Hershey kiss in the center of each cookie.
7.    Allow cookies to cool completely before storing.
Our content is created for educational purposes only. This material is not intended to provide, and should not be relied on for tax, legal, or investment advice. Vantis Life encourages individuals to seek advice from their own investment or tax advisor or legal counsel.