From Travel to Retirement: Americans Reveal Their Financial Priorities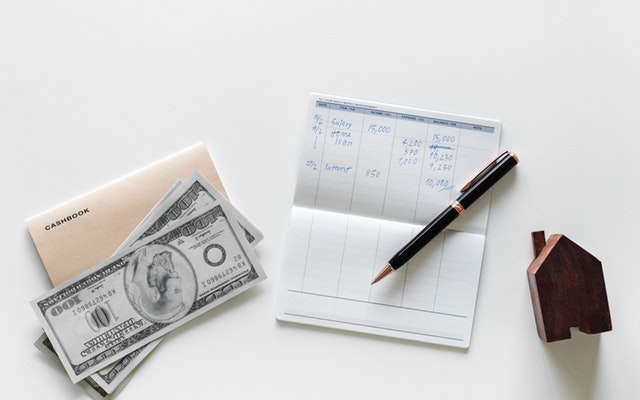 Buying a home, supporting family and saving for retirement have long been the mainstays of Americans' financial priorities. But have these priorities changed over time? We surveyed 2,000 people to find out.
The research showed travel is now one of the key priorities, with 41% of people listing it as a financial priority, compared to just 21% who put buying a home near the top of their agenda. This is reflected in the amount of money people are willing to put aside for traveling, with Americans happy to set aside $69 a month for globetrotting but only $54 for purchasing a property.
This is the overall list of the most common financial priorities: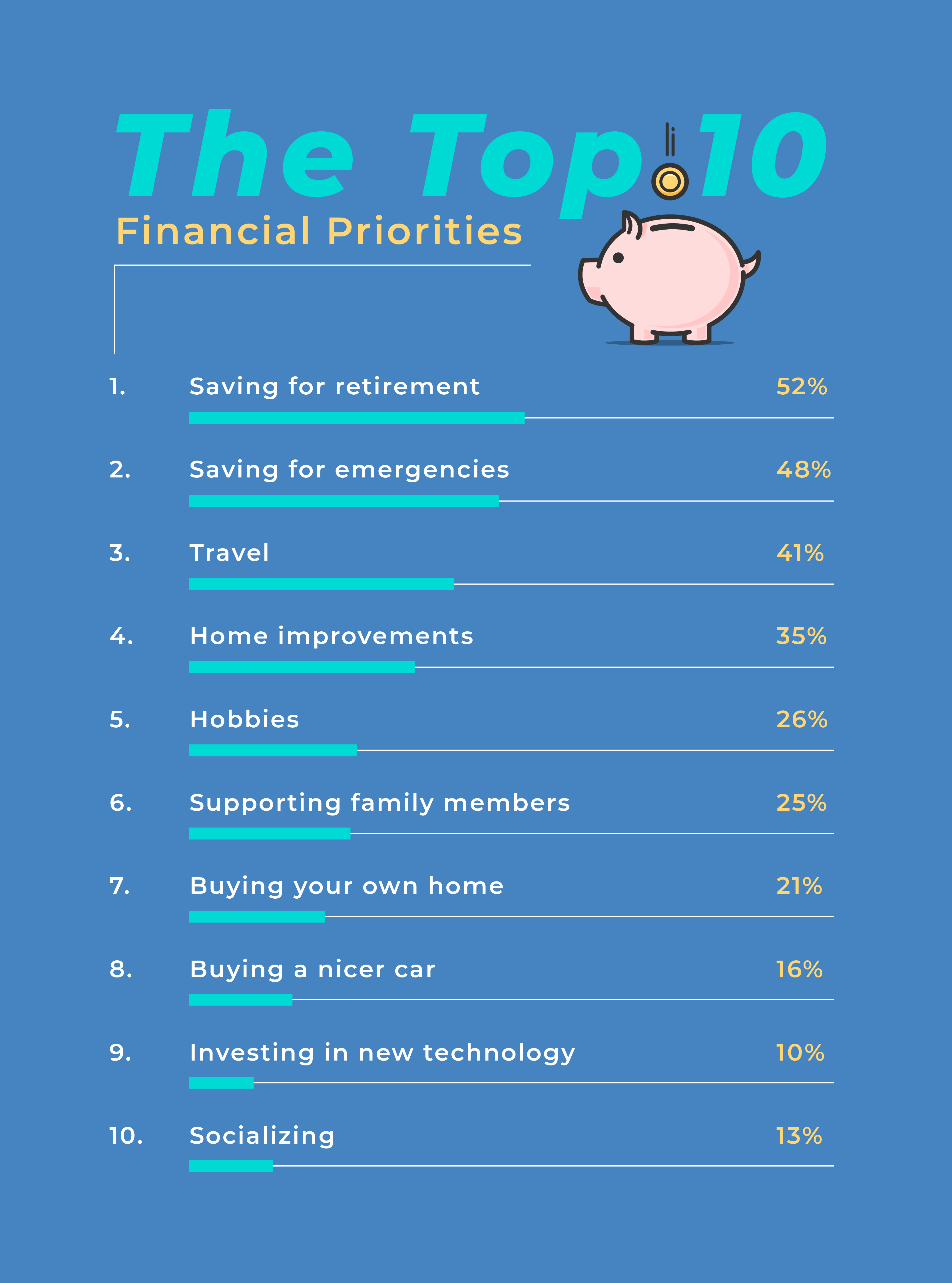 Missing out on the top 10 was life insurance, with, startlingly, fewer than 1% of Americans listing it as a financial priority.
On average, Americans want to put aside $736 per month to meet their financial goals, but one in five of those we surveyed admitted that they were currently doing nothing to achieve this. With this lofty goal in mind, this comes as a slight concern.
Here is the full list of what Americans want to set aside every month: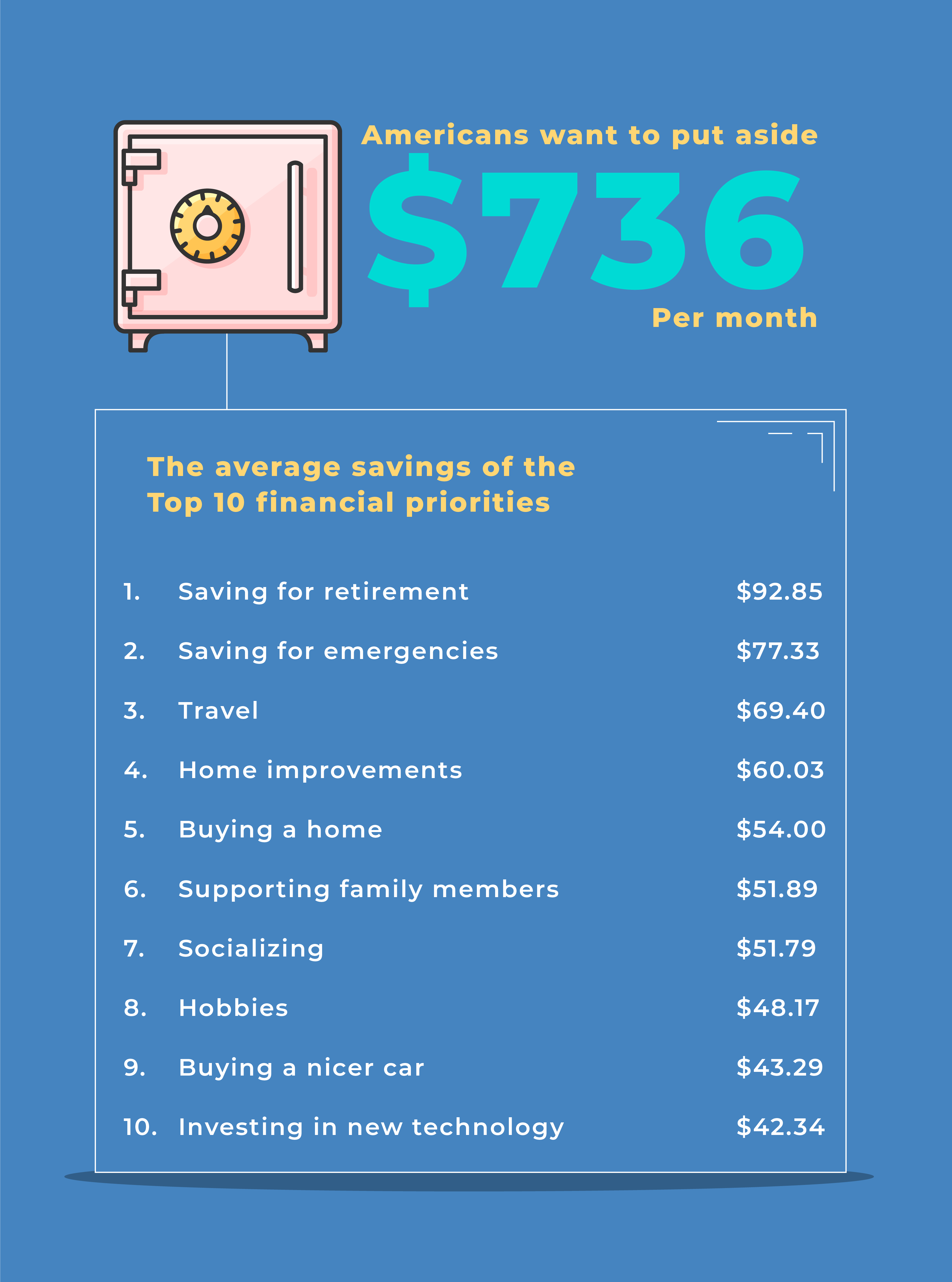 If doing nothing to meet their financial goals wasn't worrying enough, one in ten confessed to making no attempts to budget at all, although 39% do manually plan out their budget every month.
On the bright side, people are trying several different approaches to help hit their financial objectives, including putting money away every month (63%), investing (26%) and working overtime (18%), with one in ten Americans currently working two jobs.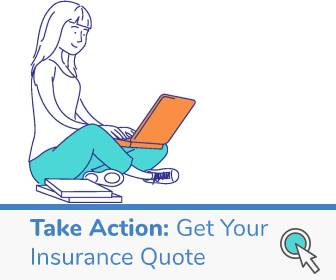 We also asked Americans to name the biggest barriers to them achieving their financial goals. Unsurprisingly, with so many people resorting to overtime and multiple jobs, not being paid enough (40%) was the most common response, closely followed by outstanding debts (29%) and family expenses (28%). Also, one in six Americans listed worrying about the economy as a major barrier to them hitting their goals.
In terms of long-term versus short-term, Americans are split between safeguarding their future and enjoying the here and now. While safety and security were the biggest influencers on financial goals (96% of our respondents selected them as a motivator), half of people also selected focusing on the present as an influential factor in their lives. This illustrates a conflict between maintaining a good standard of living and protecting the future. On a positive note, less important factors such as wanting to impress friends and adhering to social expectations were each only selected by 15% of Americans.
We also investigated how financial priorities differ by gender and location, finding that men want to put aside 40% more than women. Men currently aim to set aside $815 a month, whereas women aspire to save $582 a month to achieve their financial goals. This could be affected by the gender pay gap, as of September 2019, the National Partnership for Women and Families reported that women earn 82 cents for every dollar earned by a man.
In terms of regions, states in the west wanted to save $827 a month, whereas their south-eastern counterparts aimed to put away $684.
Overall, the findings paint a picture of a population split between wanting to save for the future and interested in prioritizing the present. While travel is now a more popular financial priority than ever before, it's reassuring to still see saving for retirement top of the list. 
If you are looking for an additional way to help save for those retirement, a whole life insurance policy can help. Click here to learn more!
Our content is created for educational purposes only. This material is not intended to provide, and should not be relied on for tax, legal, or investment advice. Vantis Life encourages individuals to seek advice from their own investment or tax advisor or legal counsel.