6 Ways to Spruce up Your Outdoor Space on a Budget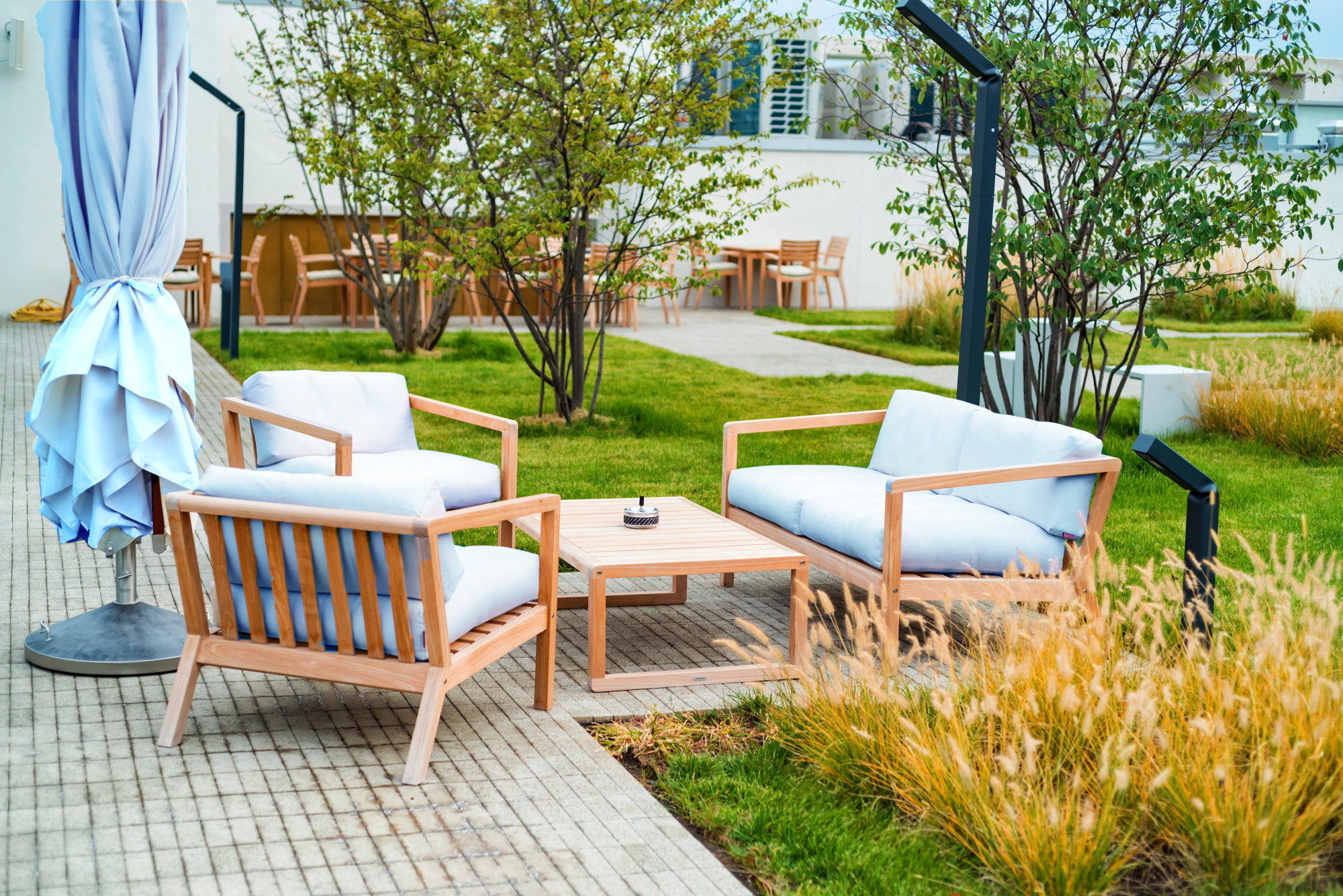 Our homes are our sanctuaries, and even more so in the wake of the Covid-19 pandemic. As such, it makes sense to devote most of your decorating budget to making your interiors as comfortable and stylish as possible.
This can mean, however, that there might not be a lot of money to work with when it comes to updating your outdoor space. But that's no excuse not to give your backyard the upgrade it deserves. After all, there are plenty of ways to spruce up your yard without splashing the cash. 
From clever paint tricks to seating suggestions, keep reading to learn about the best backyard makeover tips for transforming your outdoor space on a budget. 
1. Add Seating
Without seating in your backyard, you're unlikely to make full use of your outdoor space. So, while you might blow most of your budget on an outdoor sofa or reclining chairs, it'll be worth it every time you're able to sit and enjoy your slice of outdoor life. 
First, you'll need to consider how you'll use your outdoor space before you begin your backyard makeover on a budget. This will save you money in the long run as you won't end up with outdoor furniture you don't use. 
If you're looking for more of an informal lounging area, an outdoor sofa or loveseat is a must. You'll also need a low table for setting down your cocktail when you're chilling outside. This can double-up as a bench for extra seating for when you're entertaining. 
But, for households who plan to do some serious alfresco dining during the summer, a table and chairs could be a better choice. Make sure to go for reclining chairs though as they'll also be comfortable enough for lounging. 
2. Bring the Indoors Out
After spending on the seating, a key way to save money for your backyard makeover on a budget is to use items you already have inside your home in a new way outdoors. 
There's no need to buy new cushions, blankets, and other textiles for a couple of months. Instead, roll up some of the blankets you're unlikely to use indoors and place them in a wicker basket by your outdoor seating. This serves as a decorative feature as well as a practical way to stay warm outside if the temperature drops. 
And, if you're handy with a sewing machine, you might want to re-purpose throw cushions and poufs for outdoor use by making wipe-clean covers for them. 
In terms of decoration, you can bring potted plants, lanterns, and even faux plants out into the yard as a way to add life to your outdoor space while you're making more use of it. 
3. Upcycle Old Items
For those of you keen to spend as little money as possible, upcycling old items is a great way to add a unique and quirky touch to your DIY backyard makeover.
Turn an old sink or bath into planters, use an old bookcase as the home for a vegetable patch, or breathe new life into an old sofa frame by adding outdoor cushions. And if you're lucky enough to get your hands on an industrial cable wheel, these make great auxiliary tables. 
As for pallets, there's no end of ways that you can use these wooden wonders in your backyard. From tables to planters, benches to bird tables, the only limit is your imagination when it comes to making use of pallets in your backyard. 
4. Create Boundaries
Larger outdoor spaces often lack the definition they need to really maximize their potential. One way to make the most of your backyard without needing to spend big is to create boundaries between spaces to highlight different uses. A lattice screen, balcony railings, a hedge, or even a well-placed bench can make your backyard feel more like multiple rooms. 
You could even rearrange items you already have, such as outdoor furniture or plant pots to avoid spending extra money. By moving features around you can help add a sense of enclosure to seating areas that makes it feel like you're stepping into a fresh extension of your living space. 
5. Go Green
Plants are an excellent way to achieve a backyard makeover on a budget.
Inexpensive ferns and larger leafy plants add a lush green feel, helping to breathe new life into a forgotten patio area. What's more, spending time in green spaces, no matter how small or close by, is a great way to reduce stress. You can even bring some of your indoor plants outside, although you'll need to make sure you don't expose them to the wrong kind of lighting. 
If you have space, you could even consider adding a backyard garden. Not only will watching your seedlings grow bring you a new sense of purpose, but you'll also get to enjoy plenty of delicious homegrown veggies!
6. Make Clever Use of Color
Just as a lick of paint indoors can breathe new life into your home, using color in your backyard is a low-budget way to transform old fences and sheds. 
But what color should you go for? As strange as it might sound, garden designers recommend black paint. The texture of the wood ensures that black doesn't look too dense and one-dimensional. Yet, at the same time, its depth provides the perfect 'invisible' backdrop for plants and flowers.  
Black also contrasts well with light-colored gravel, chippings, or paving slabs for a fresh and vibrant look that's also super striking. And, with this kind of minimal palette to work with, it's easy to brighten up your space with some colorful cushions, plant pots, and other accessories. 
Budget for Your Backyard Makeover
As these tips and tricks show, it's not difficult to pull off a backyard makeover without needing to spend a fortune. 
But, in the same way that it pays to plan for your future, it's a good idea to plan out your design and consider how you want to use your space before you buy anything. And often, by repurposing indoor items, rearranging outdoor furniture, and reusing items in new ways, you can keep costs down even more.
Our content is created for educational purposes only. This material is not intended to provide, and should not be relied on for tax, legal, or investment advice. Vantis Life encourages individuals to seek advice from their own investment or tax advisor or legal counsel.
For more ways to save on summer fun, read our finance blog.