4 Steps to Career and Financial Success After Having Children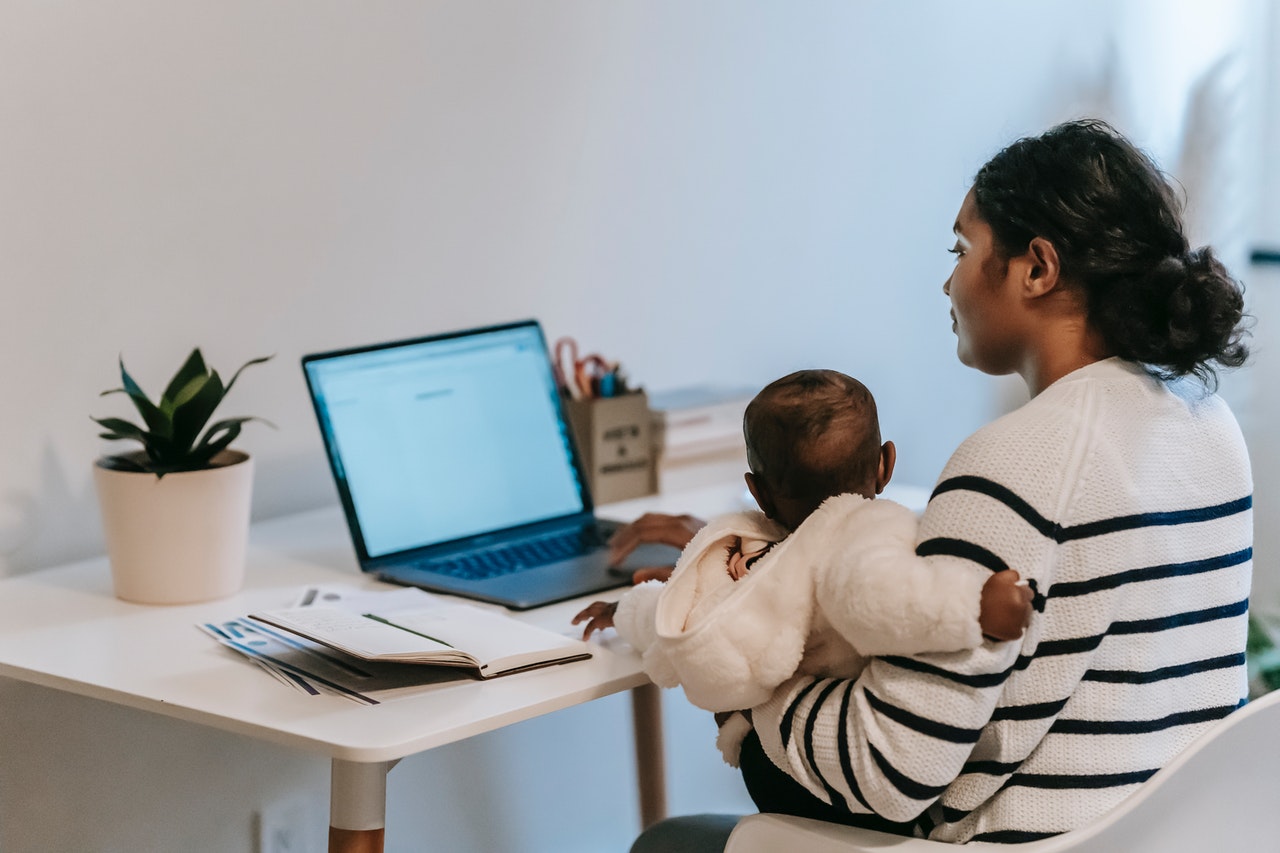 When my children were babies, I had this idea in my head that I somehow became less valuable as an employee due to my newfound motherhood. I also believed that maternity leave could potentially stall my career in some ways if not completely end it.
With that particular mindset, I have to admit that going back to work post-baby was particularly hard. I struggled. It also didn't help that I was sleep deprived, which left me on edge and pumping felt like it took up my entire day. But defeat truly set in when I realized not only was I try to solve my own family's problems, but the world's problems, all by myself.
At some point, though, after my second son was born, I realized that maybe one of the reasons I felt like I was set up to fail was due to the lack of resources available to me through this major life transition. I mean sure, there were lactation consultants and courses on baby CPR, but where were the courses on how to plan for and return from maternity leave in an empowered way, and thrive as a new working mother?
Here are a few lessons that all new working parents can focus on, leading them to post-baby career and financial success:
Learn and Use Mindfulness Tools Daily, to Avoid Going Off the Rails
New parents often barely have time to eat and shower, let alone engage in elaborate self-care rituals. Being mindful of little, tiny acts of self-care can mean the most, like breathing.
Personally, the mindfulness skill that had by far the most impact on me in new parenthood was adopting the practice of gratitude journaling. Before bed, each night, I began to write down 3-5 things I was grateful for. Whether it was the touch of my baby's soft skin against my cheek, a warm shower, or a job to return to, taking time daily to see the abundance in my life changed my perspective radically. This abundance practice is also incredibly helpful on the money-front, at a time when baby and child-care expenses can easily take over an entire budget.
Strategize About the Logistics
There are many working mama ninja tips and tricks out there that can help make life less chaotic. One important factor to keep top of mind is whether or not you have paid maternity leave. Look into this prior to taking your leave. And if you do not have this benefit available to you, be sure to save money beforehand.
After the baby has arrived, block off multiple pumping sessions per day on your calendar for an entire year. In addition to that, commit to sitting down for a weekly planning meeting with your partner, to map out who is on point each day of the coming week, should the baby get sick.
Having systems like these in place can help you worry less about the logistics and spend more energy focusing on your job and on cuddling that precious baby of yours.
Show Up As a Working Parent Leader
Remember all those skills you had and were known for at work pre-baby? You still have them. And better yet, you're gaining new skills through parenthood that are, yes indeed, quite useful in your job.
You might not realize it, but through parenthood, you might have mastered this thing called prioritization. And if that's not enough, take a look at your problem-solving skills. How have those advanced? Your ability to communicate with customers who have a difficult time articulating their needs very well has most likely improved.
Normalize Working Parenthood in Your Professional Role
I challenge you to think about how you can help normalize working parenthood in your professional role. Where does the working parent voice need to be heard within your organization?
After I had my second child, I was appointed to my organization's 403(b) (retirement fund) committee. At some point, I discovered that the 10% match my employer normally provided on retirement contributions did not apply to any vacation or sick days an employee took during parental leave. So if an employee took a vacation day the day before her baby arrived, she would receive the 10% match for that day of work. But if she took that same vacation day the day after her baby arrived, that vacation day suddenly became worth 10% less. Sound ridiculous? Yes. But somehow it didn't seem crazy to the predominantly male committee that had clearly never thought through this issue. (Fortunately, the policy got changed.)
Your service on leadership committees and groups at work helps the working parent perspective be heard. And your efforts can leave you feeling empowered by the positive change you're making.
Build Your Community
Remember I said I felt like I had to solve all my family's problems myself? I didn't, of course. But my self-sufficient "I can figure all this out on my own, thank-you-very-much" streak went into overdrive and convinced me I did.
It was only after my own string of kitchen-floor meltdowns that I started to reach out to others for help. I started to re-engage with my friends and my book club, to nourish me as a person. And I began to consciously work to build a village to support myself and my family.
I also learned the value of paid community members. This was the first time, for example, that I outsourced cleaning my home. (We now hire a cleaning crew once every other month to do the deep cleaning we can't manage to get to ourselves.) It proved to be way less expensive than I imagined, and it freed up my and my husband's time and energy to focus on our kids and our careers. We also started hiring a pre-teen parents' helper on weekends and using a twice a week meal delivery service. All truly critical to our own sanity and success.
My boys are now 6 and 8, and things are a lot less dire than they felt when both kiddos were tiny. If there is one tip I'd give my younger self, though, it's to remember that in motherhood and both career and financial success can, indeed, go hand in hand.
Written By: Lori K. Mihalich-Levin
Lori K. Mihalich-Levin, JD, is a frequent speaker on topics related to work-life balance and integration, navigating the return from parental leave. A partner in the health care practice of a global law firm, she also is a mother to two boys.
Our content is created for educational purposes only. This material is not intended to provide, and should not be relied on for tax, legal, or investment advice. Vantis Life encourages individuals to seek advice from their own investment or tax advisor or legal counsel.