Vantis Life Honored with 2019 BISA Technology Innovation Award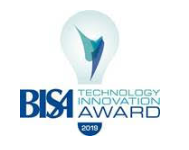 Vantis Life Insurance Company, an industry-leading life insurance provider for mass market consumers, was recently honored by the Bank Insurance & Securities Association (BISA) with its 2019 Technology Innovation Award. Vantis Life accepted the award during the BISA Annual Convention on March 7 in Hollywood, Florida.
This accomplishment reflects the company's investment in Velocity, a completely digital life insurance purchase experience utilizing accelerated underwriting technologies to simplify the application process for both consumers and agents. The award marks Vantis' second recognition by BISA as a leading technology innovator. 
"Over the last 12 months, we have made significant strides to create a seamless, web-based life insurance sales experience for consumers and our partners in financial institutions." said Ray Caucci, Chairman and CEO of Vantis Life. "BISA's recognition of our efforts in creating a low-friction environment for life insurance purchases validates the marketplace demand for continued innovation in insurtech."  
Vantis Life's Velocity allows financial institutions to offer up to four types of life insurance products directly to customers via a co-branded web experience.
The BISA Technology Innovation Award recognizes financial services companies leading the industry's innovation in products, services and platforms. BISA is the leading financial services industry association dedicated to serving those responsible for the marketing, sales and distribution of securities, insurance, and other financial products and advisory services through the bank channel.  
About Vantis Life
Established in 1942, Vantis Life Insurance Company's primary goal is to provide families with affordable life insurance products. Vantis Life markets its products through financial institutions and direct-to-consumer. The Company prides itself on providing simple, easy-to-afford products to middle-income American families and supporting these products with attentive and personal customer service. Vantis Life is a separately operated subsidiary of The Penn Mutual Life Insurance Company.
Contact: 
Gregory FCA for Vantis Life 
Allie Long, 610-228-2103
vantis@gregoryfca.com